Protect Files From Unwanted Access
5 min read
Your Windows PC has password protection, as best as I can tell. With that,  your computer and all of its files will be protected from snooping eyes and unwanted access. However, why end there? The Microsoft Office suite allows you to freely create, edit, and share a variety of document formats. But what happens when you want to secure a particular document?
Different factors may prompt you to add a password to any document. Consider the following scenarios: You may have a confidential document that you don't want anyone to see, one that you don't want to be altered in any way, or one that is on a computer that is easily accessible to many people and you want to safeguard.
Whatever your reasons are, Microsoft Office offers the option to password-protect your office files. Hence, this article will explain how to protect your MS office files from unwanted access by adding passwords to the documents as well as how easy it is to remove the password.
How to set up a password to a file in Microsoft Office
Setting up passwords for your MS Office files is pretty straightforward and below are the steps for doing it:
Step 1 Launch the MS Office application (Microsoft Word, Excel, or PowerPoint) and proceed to open the specific document to which you would like to add password protection to.
Step 2. Go to the menu bar above and click on the File icon.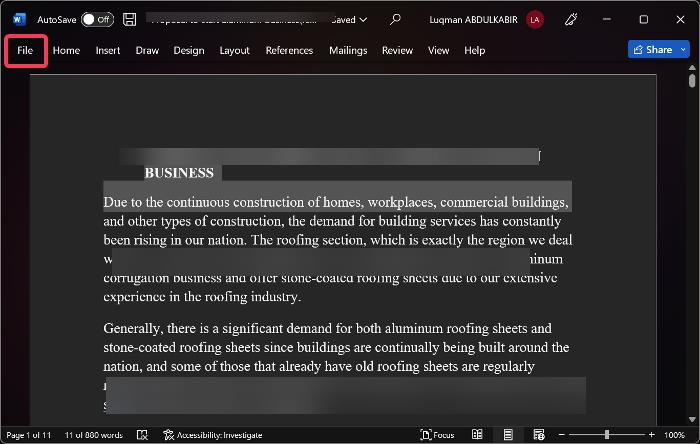 Step 3. Click on Info.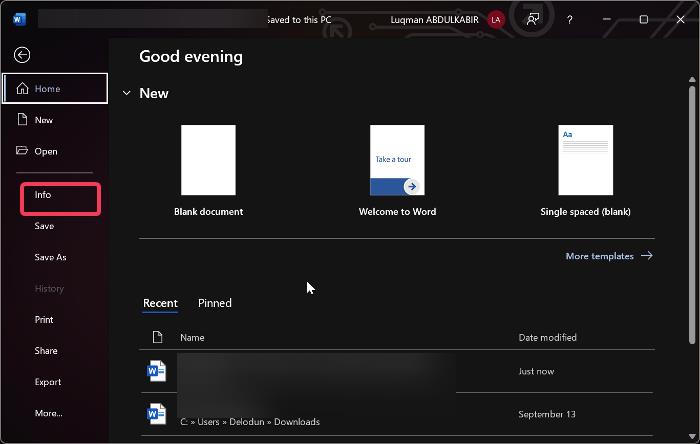 Step 4. After, click on the Protect Document icon. Something important you should note; on Microsoft Excel the option displayed is Protect Workbook and in Microsoft PowerPoint, it is Protect Presentation.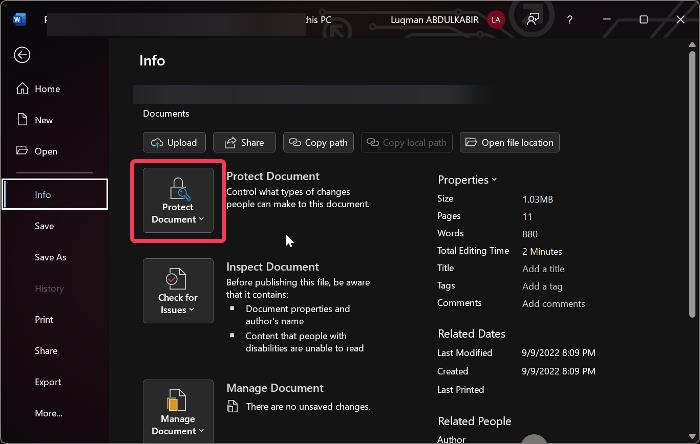 Step 5. After clicking on Protect Document, proceed to click on Encrypt with Password option.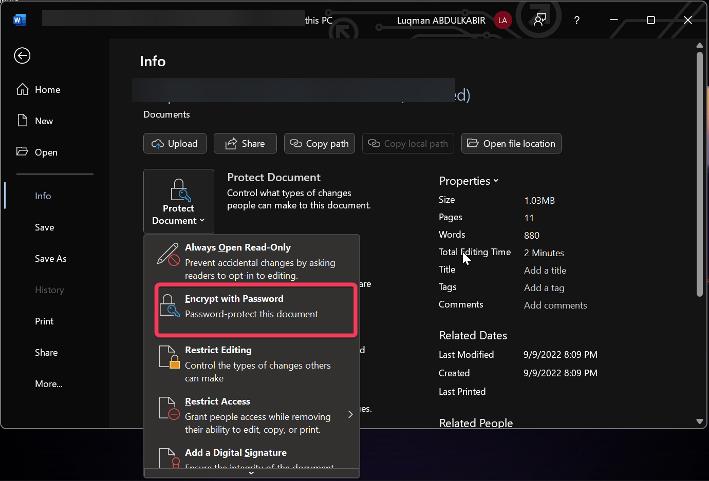 Step 6. A Password field will pop up instantly where you will need to input the word or phrase that would lock and also unlock the document.
Step 7. If you've chosen a password you're perfectly fine with it, click OK to continue.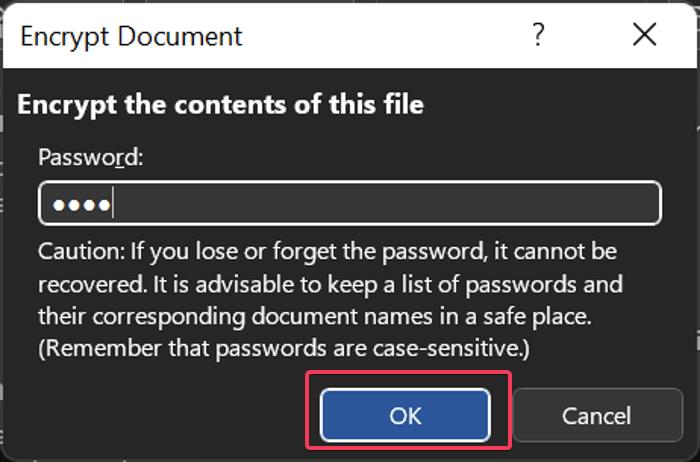 Here's the tricky part; should you forget the password you chose, there's no  "forgot password" option or any means to restore the password. Hence, you lose complete access to the documents. The safe and ideal thing to do is to store your password in a safe place should the case arise where you can't remember it.
Step 8. After clicking OK, a Confirm Password window will pop up and you'll be required to Re-enter the previous password you set up for confirmation.
Step 9. Click OK again to save. The password would then be applied to that document.
If anyone wants to gain access to that document, they will have to enter the password you've set up already. This is to emphasize the need for you to keep the password safe.
ALSO READ: HOW TO CHANGE PASSWORD IN MICROSOFT OUTLOOK
How to remove the password from a file in Microsoft Office 
To remove  the password from an office Document (Word, Excel, or PowerPoint), you can make use of the following steps:
Step 1. Open the application (Word, Excel, or PowerPoint) and find your way to the document in question.
Step 2. Type in the current password to gain access to the file.
Step 3. After that, click the OK button.
Step 4. Move to the menu bar and click on File.
Step 5. Click on Info.
Step 6. Proceed to click on the Protect Document option that shows up afterward.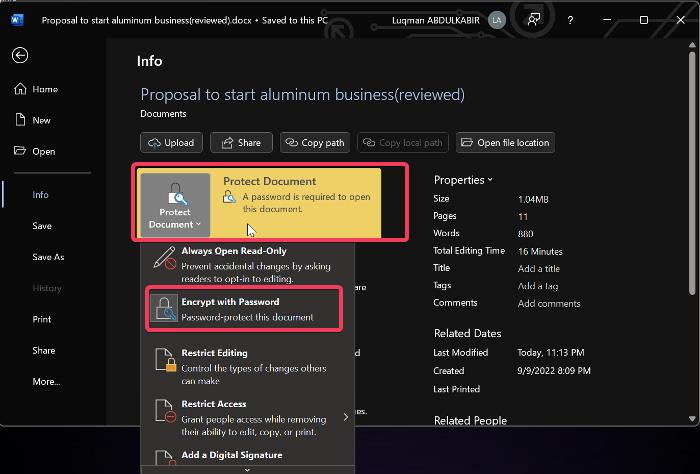 Step 7. Select the Encrypt with Password option.
Step 8. Clear the field by deleting current password
Step 9. Click on OK, to save the changes made by you.
This way, access is reverted to normal. Everyone and anyone will now be able to gain access to the document without having to enter any password.
Wrap Up
If an Office Document contains sensitive or confidential information that you don't want people to have access to or altered, you might need to apply extra protection to it. Along with the benefits of creating documents efficiently, the Microsoft Office package also offers a layer of security to help keep your word documents, spreadsheets, presentations, and all safe.
It's almost impossible for anyone to gain access to any document to which you've added a password. Also, it's equally easy to set up and disable such passwords; so you shouldn't have any problems. Microsoft Word might have been used as a case study in this article but it's virtually the same process as Excel and PowerPoint; so there's no difficulty in doing that at all.
READ: QUICK WAY TO COPY THE FULL FILE OR FOLDER PATHS ON WINDOWS 11
Frequently Asked Questions 
Can I password-protect my Microsoft Office files?
If you wish to protect against unauthorized access to your Microsoft Office files, you may use a password to safeguard them. The procedure for accomplishing this is rather simple, and we have covered it in this article.
What happens when you forget the password to your document?
You won't have access to your document because the password you set up would be needed to gain access to the document every single time you open the document. In the same vein, there's no option or fail-safe to recover your password should you forget it. So here is what you should do; try to make use of a strong password that you can easily remember. Follow this up by making sure that the password is stored somewhere safe. 
This just goes to show how difficult it is for anyone without the password to your office file to gain access because if you also make the mistake of not keeping the password and you forget it, it's almost impossible to gain access to such a file. For emphasis' sake, try to use a password you're likely to remember and keep the password somewhere safe. The essence of adding a password is to keep your document safe from unauthorized access and not so that you can't gain access to your document.
Can you set up a security question rather than adding a password?
Unfortunately, as of now, the answer to this is no. You can't set up a security question that would require an answer instead of adding a password. Microsoft Office only comes with the option of adding a password. This shouldn't be a turnoff or a reason why you should be concerned. Why? A password is safer and more reliable. Whatever password you add to an Office file is the only "key" that can open up such a file. So unless you give the password to someone else to access, such a document is safe and secure.