Don't Use an Apple AirTag as a Pet Tracker – Use a Whistle Instead!
7 min read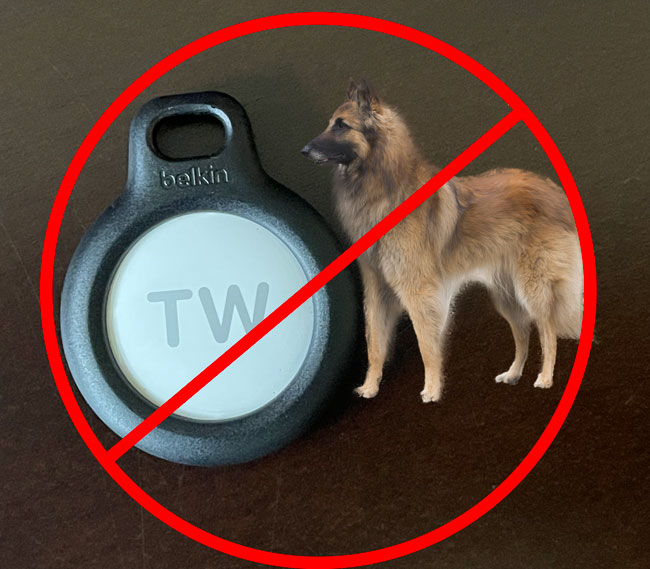 Apple introduced their AirTag (a Tile competitor) for those looking for an easy way to keep track of things like keys, purses, wallets, etc. However, many have been tempted to use them on their pets too. There certainly isn't anything wrong with this thought process, but it really depends on your situation and where your pet may go missing.
How do AirTags work?
With an AirTag there is no subscription fee, no WiFi, and no GPS. It works with Ultra Wideband technology to show itself to the Find My app on your iOS devices. In order for your lost/misplaced/stolen object to show up on the Find My network it would have to be within range of another Apple device such as an iPhone, iPad or Mac. Let's say you left your backpack with an AirTag attached to it/in it, in the library and you drove home. Now you're miles away from your backpack.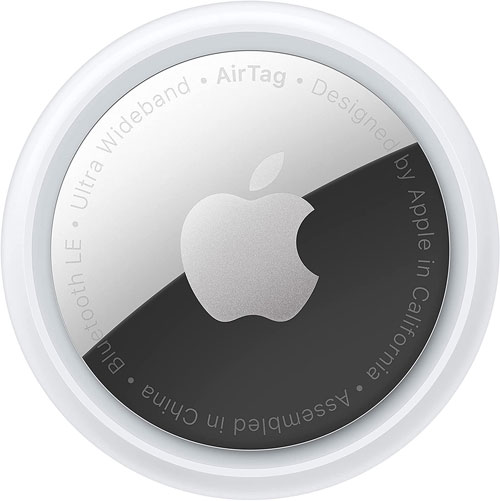 You are way out of the range of bluetooth or even the 800 foot range of Ultra Wideband technology. However, if someone else is in the library near your backpack with an iPhone, iPad or Mac your backpack AirTag would automatically be picked up by the Find My network and show its location in the Find My app on your iOS device. Luckily the people near your backpack don't need to do anything special. There's nothing they need to install or activate. It all happens in the background. Your AirTag in your backpack would privately be detected and shown on the Find My network just being near another Apple device. Cool!
This is not ideal for pets depending on where they may get lost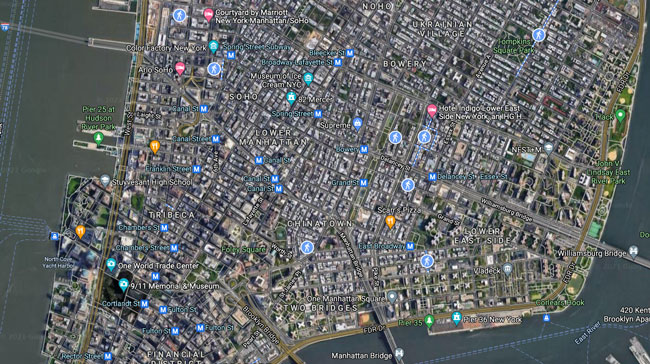 If you live in downtown New York City and your dog runs off with an AirTag on his/her collar, there's probably a good chance that your dog would be in the range of an Apple device in such a densely populated area. This means that an AirTag could work just fine in locating your escape artist. However, if your dog/cat ran off into a wooded or rural area or even a large park, it may easily run out of the range of any other Apple devices and therefore the AirTag would be pretty useless in accurately locating your pet. The good thing would be that the Find My app would show the last location that it saw the AirTag in, but the bad news is that by the time you realized that your pet was even gone, it could be several yards or miles away from that location. I know I'd be panicked in that scenario. This is exactly why Apple doesn't recommend using AirTags for tracking pets or children/people.
Get a Whistle GO Explore instead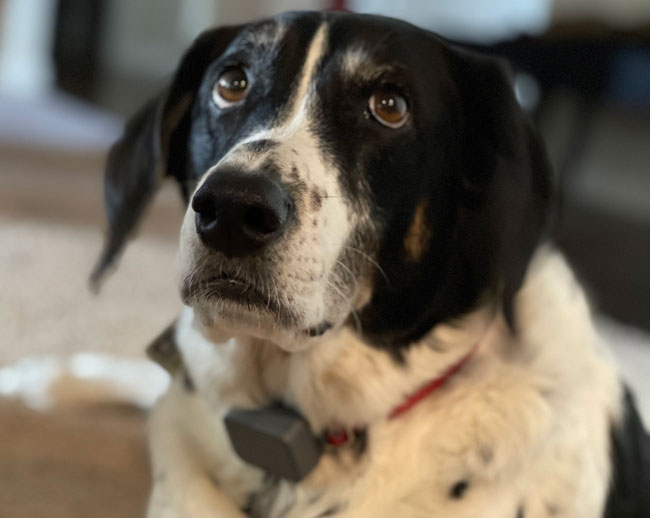 I have used pet GPS trackers in the past and while they are usually very accurate the ones I tried all failed and literally stopped working just outside the warranty period. I had given up. As I was considering using an AirTag thinking "it's better than nothing", my buddy Jack Beckman turned me onto Whistle. He has used them for years. I pulled the trigger and ordered one with a year of GPS service.
How does Whistle work and differ from an AirTag?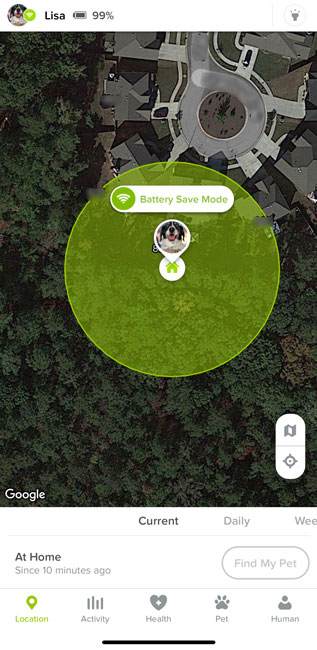 Whistle GO Explore is actually designed from the ground up to be a pet tracker. It uses GPS instead of bluetooth or Ultra Wideband technology. The obvious downside is that you need to pay for a service plan since it connects to cellular networks for GPS tracking and the battery life (up to 20 days) is a lot shorter than an AirTag (which is rated to last a year before needing to replace the battery). However, the obvious upside is that your pet can be located just about anywhere and it's not dependent on you or a stranger with an Apple device being nearby.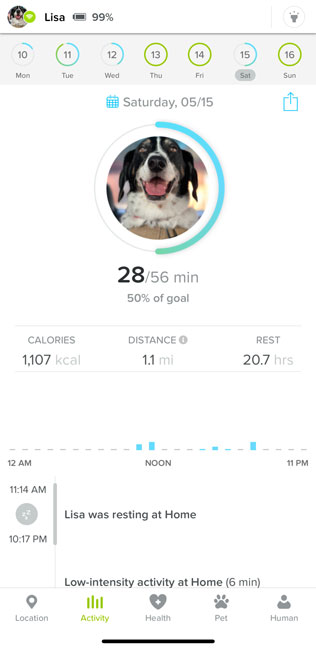 The Whistle GO Explore is so much more than just a "find my lost pet" device. Not only do you get the GPS tracking for a worry free ability to find a lost pet, but you also get a fitness tracker. Similar to an Apple Watch, the Whistle GO Explore has a "Fitness Ring" that you strive to close each day for your pet. Like humans, active pets will likely live longer.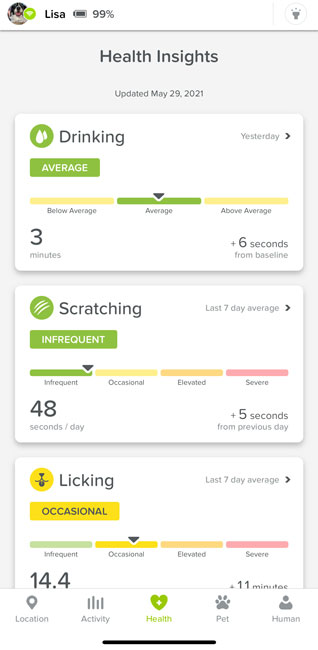 It also tracks things like how much they scratch themselves, lick themselves, drink water, and sleep. Instead of a device that you'd only use in an emergency, you get a device that helps you keep tabs on your pet's health. You can even share reports with your vet. The App is beautifully designed.
I Did a Real World Test – Apple AirTag vs Whistle GO Explore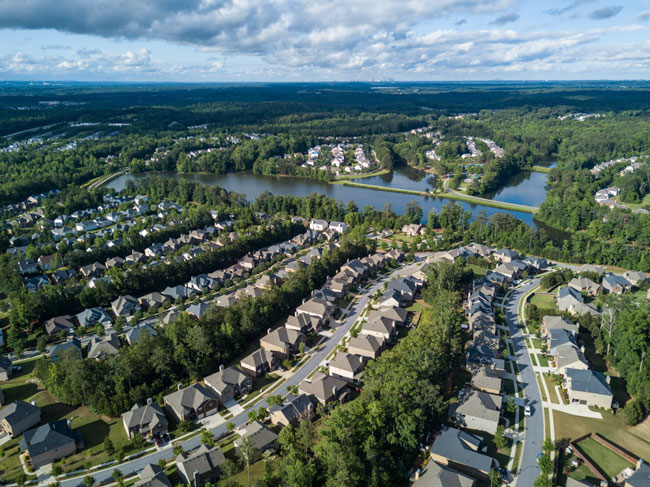 I live in a fairly populated area outside of Atlanta. We have a few lakes here and hundreds of homes in the subdivision. I walk "Lisa" in the neighborhood almost daily. Our route takes us by one of the lakes and although there are homes on all sides of it with people doing walks, runs and bike rides fairly regularly I figured this would be a great spot to test my theory.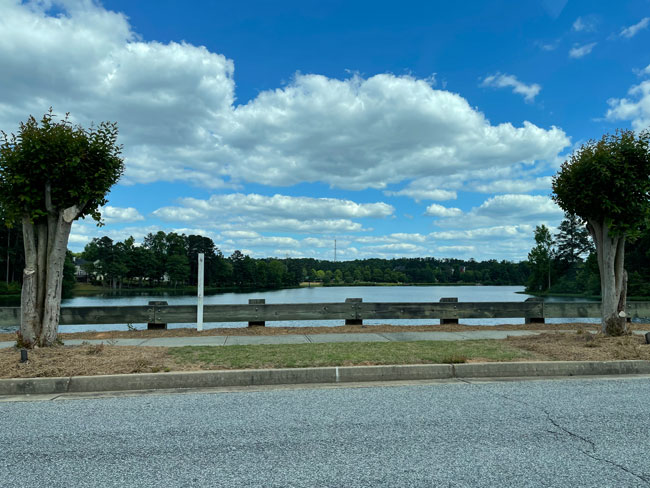 I put my "Keys" AirTag on Lisa's collar with the Whistle GO Explore. I turned OFF my iPhone 12 Pro Max and drove from my house to the lake that we walk by. I got out of the car and placed the collar behind one of the guardrail posts that we walk by all the time. This way no one would see if they were walking or driving by. Then I got back in my car and drove a mile away to get out of the range of the AirTag.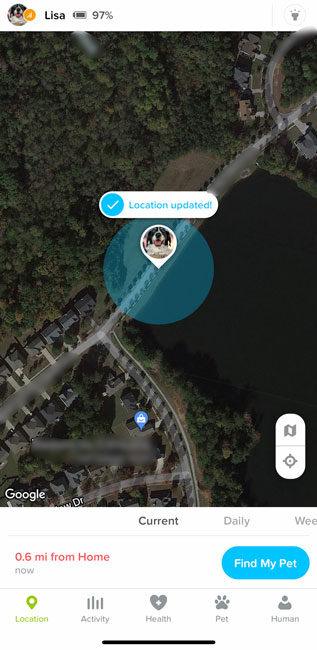 I fired up the Whistle app and it was no surprise that it immediately knew the exact location of the collar.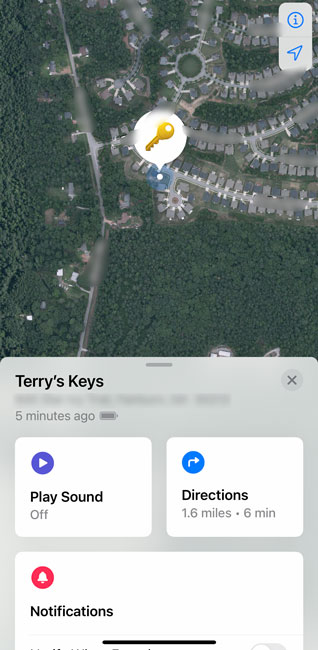 Next I fired up the Apple "Find My" app and as I predicted it showed my keys AirTag as still being at home. Since it had not been in the range of an Apple device since I left the house (my iPhone was off), it hadn't updated its location.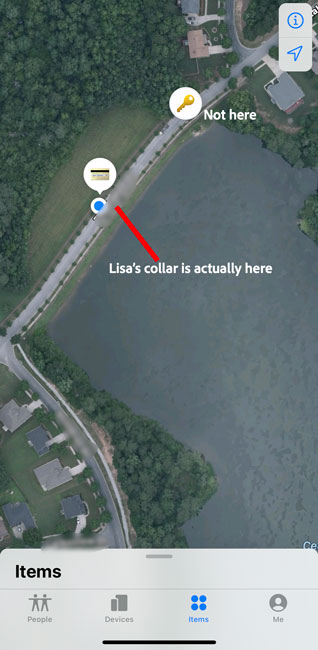 As soon as I drove back to the spot where I left the collar the Find My app updated the location of the AirTag, but even then it showed it down the street a bit. The location was off a bit at first.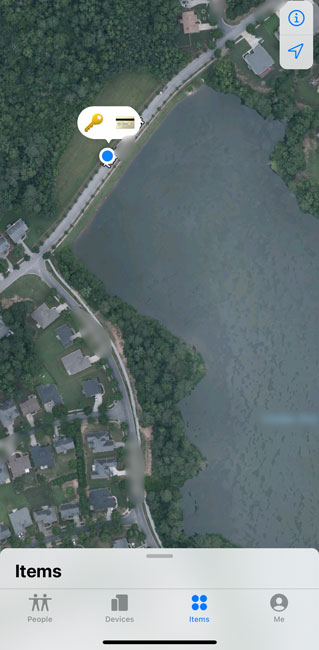 It wasn't until I got out of the car and got closer to it that the Find My App showed the actual location of the "Keys" AirTag and Wallet AirTag in my pocket. Keep in mind that the keys were not moving constantly like a pet potentially would be.
I would imagine that even if you were able to find the proximity of your pet, unless you could actually see him/her it would still be challenging to actually find his/her location using an AirTag. Hopefully they would respond to your voice and yelling.
GPS Location Tracking is Next Level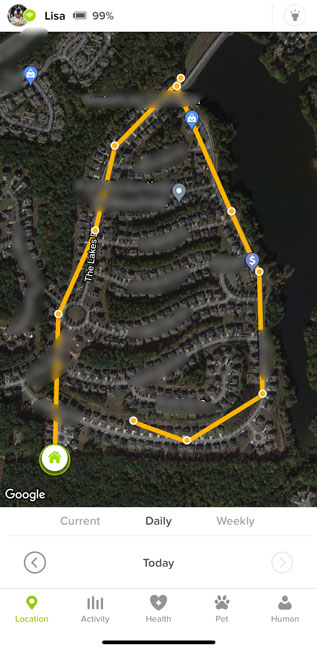 It's one thing to pull up an app and find your missing item, but with the Whistle app you get to see everywhere your pet went on a map. You start off by specifying an "At Home" radius.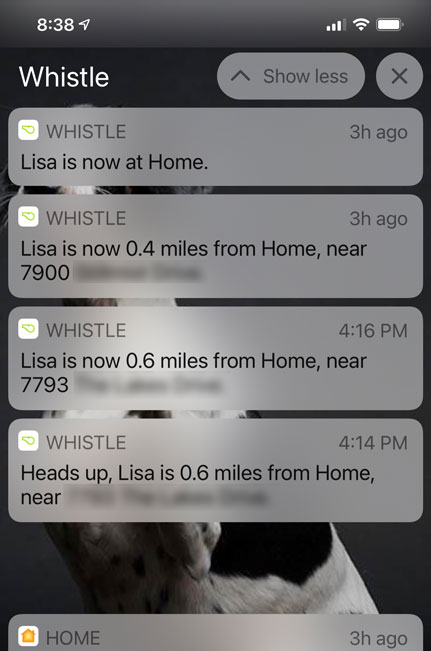 The minute your pet leaves this area you'll receive a push notification (text and/or email if you want). With an AirTag you would not be notified at all. If you pet goes missing at night you can even remotely activate the light on the Whistle GO Explore to help see your pet in the dark.
You can also set up additional "Safe Places" such as a boarding or groomer location, second home, family home, vet, etc. When your pet enters these areas the Whistle GO Explore will know that your pet is not missing. With that said it also knows based on your phone's bluetooth connection to the device that you and your pet left home together.
What's the cost difference?
A single AirTag goes for $29. That's it. You would only need to pay for a new battery each year. The Whistle GO Explore is $149. A Whistle Go plan is $12.99/month or $99/year (I went for the yearly plan). Bought together it was $228.95 ($20 off with a referral link). That's 10 times the cost of an AirTag and about a 1,000 times better for pet tracking. You get what you pay for.
The Bottom Line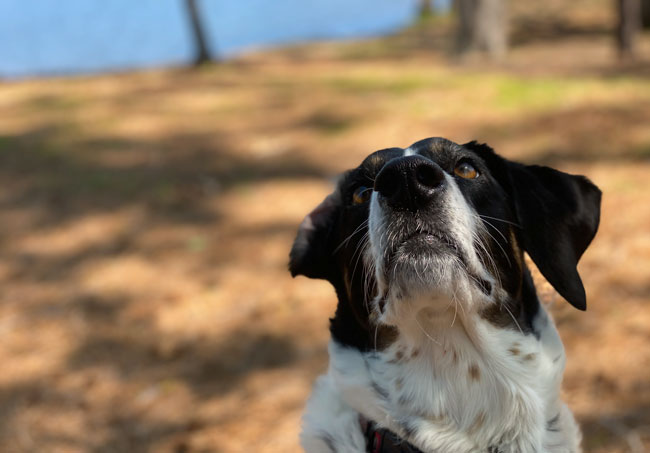 For pet tracking the Whistle GO Explore is a winner! I was pleasantly surprised by the battery life too. With my previous tracker I had to charge it every day. This one easily last for a couple of weeks without needing to be charged. It's waterproof rated IPX8 which means it can be submerged in up to 6 feet of water. AirTags are great for finding your misplaced items around the house or items you left somewhere in a populated area. However, for a pet that's likely to be constantly moving, an AirTag would likely be a frustrating proposition.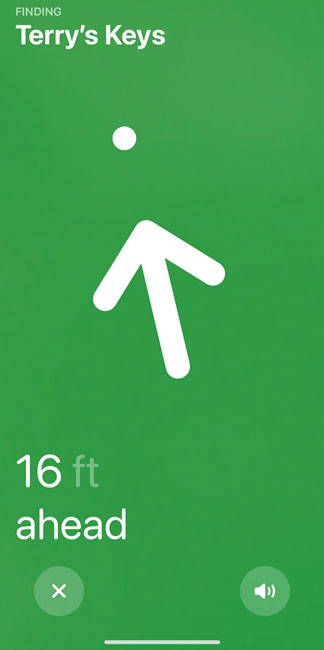 Use AirTags for what they are intended for!
Get a Whistle tracker for your pet here. It comes in three colors.
Get an Apple AirTag here (for your other stuff)