8 Examples of How AI Drives the Automotive Industry – Grape Up
8 min read
Just a few years ago, artificial intelligence stirred our imagination via the voice of Arnold Schwarzenegger from "Terminator" or agent Smith from "The Matrix". It wasn't long before the rebellious robots' film dialogue replaced the actual chats we have with Siri or Alexa over our morning cup of coffee. Nowadays, artificial intelligence is more and more boldly entering new areas of our lives. The automotive industry is one of those that are predicted to speed up in the coming years. By 2030, 95-98% of new vehicles are likely to use this technology.
What will you learn from this article?
How to use AI in the production process
How AI helps drivers to drive safely and comfortably
How to use AI in vehicle servicing
What companies from the AI ​​industry should pay attention to if they want to introduce such innovations
You will learn about interesting use cases of the major brands
---
Looking at the application of AI in various industries, we can name five stages of implementation of such solutions. Today, companies from the Communication Technology (ICT) and Financial Services ("Matured Industries") sectors are taking the lead. Healthcare, Retail, Life Science ("Aspirational Industries") are following closely behind. Food & Beverages and Agriculture ("Strugglers") and companies from the Chemicals and Oil and Gas sectors ("Beginners") are bringing up the rear. The middle of the bunch is the domain of Automotive and, partly related to it, Industrial Machinery.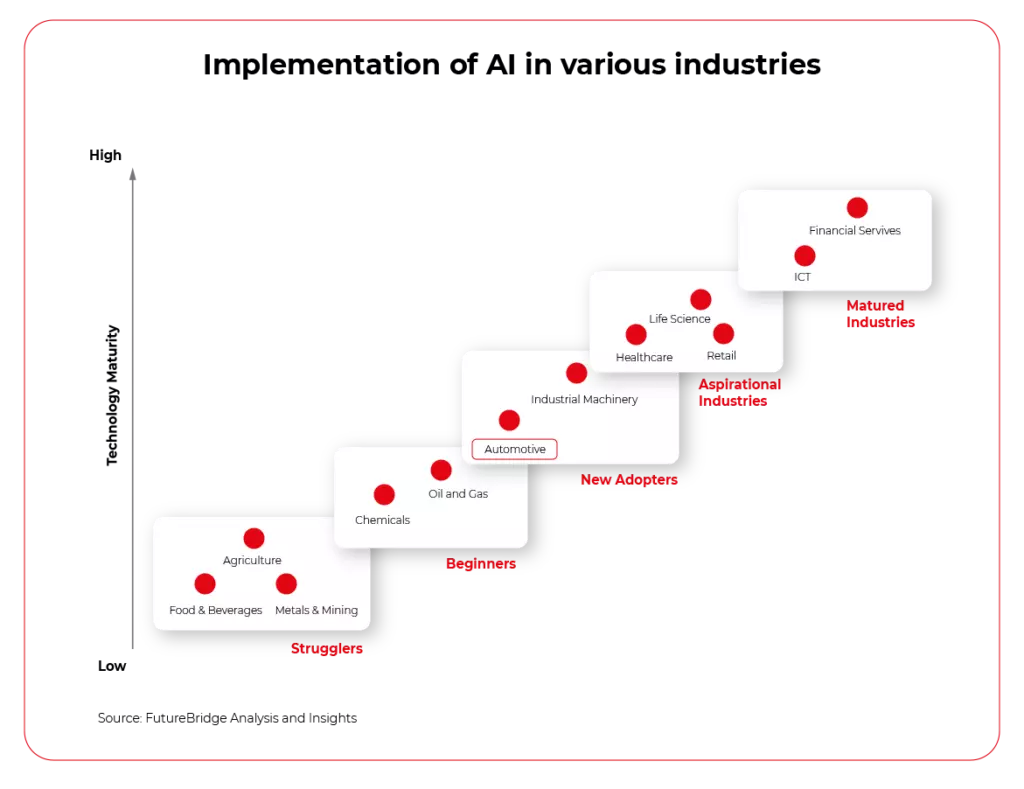 Although these days we choose a car mainly for its engine or design, it is estimated that over the next ten years, its software will be an equally significant factor that will impact our purchasing decision.
AI will not only change the way we use our vehicles, but also how we select, design, and manufacture them. Even now, leading brands avail of this type of technology at every stage of the product life cycle – from production through use, to maintenance and aftermarket.
Let's have a closer look at the benefits a vehicle manufacturing company can get when implementing AI in its operations.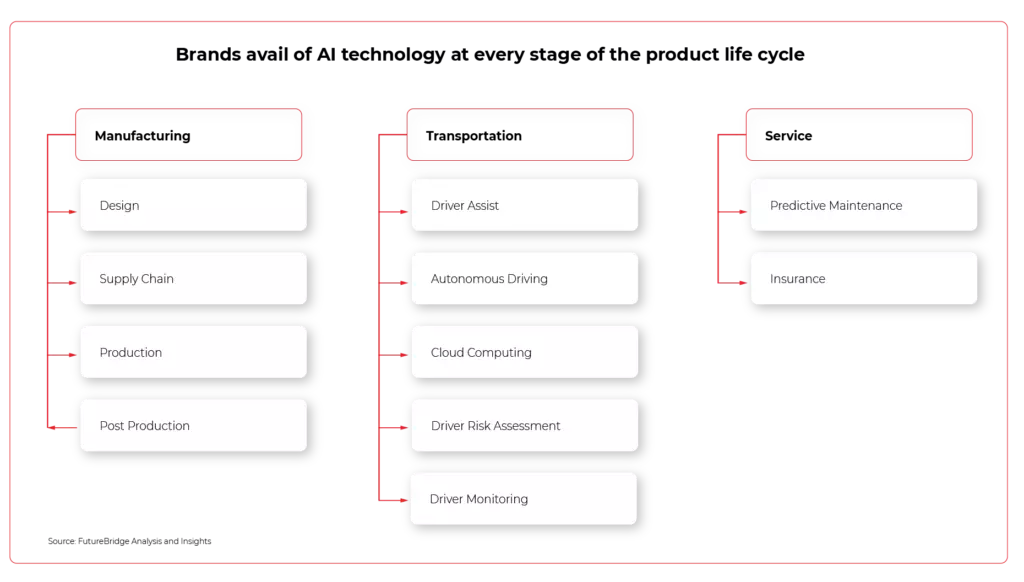 Manufacturing – how AI improves production
1. You will be able to work out complex operations and streamline supply chains
An average passenger car consists of around 30,000 separate parts, which interestingly enough, are usually ordered from various manufacturers in different regions of the world. If, on top of that,  we add a complicated manufacturing process, increasingly difficult access to skilled workers and market dependencies, it becomes clear that potential delays or problems in the supply chain result in companies losing millions. Artificial intelligence can predict these complex interactions, automate processes, and prevent possible failures and mishaps
Artificial intelligence complements Audi's supply chain monitoring. When awarding contracts, it is verified that the partners meet the requirements set out in the company's internal quality code. In 2020, over 13,000 suppliers provided the Volkswagen Group with a self-assessment of their own sustainability performance. Audi only works with companies that successfully pass this audit.
2. More efficient production due to intelligent co-robots working with people
For years, companies from the automotive industry have been trying to find ways to enhance work on the production line and increase efficiency in areas where people would get tired easily or be exposed to danger. Industrial robots have been present in car factories for a long time, but only artificial intelligence has allowed us to introduce a new generation of devices and their work in direct contact with people. AI-controlled co-bots move materials, perform tests, and package products making production much more effective.
Hyundai Vest Exoskeleton (H-VEX) became a part of Kia Motors' manufacturing process in 2018. It provides wearable robots for assembly lines. AI in this example helps in the overall production while sensing the work of human employees and adjusting their motions to help them avoid injuries. 
AVGs (Automated Guided Vehicles) can move materials around plants by themselves. They can identify objects in their path and adjust their route. In 2018, an OTTO Motors device carried a load of 750 kilograms in this way!
3. Quality control acquires a completely new quality
The power of artificial intelligence lies not only in analyzing huge amounts of data but also in the ability to learn and draw conclusions. This fact can be used by finding weak points in production, controlling the quality of car bodies, metal or painted surfaces, and also by monitoring machine overload and predicting possible failures. In this way, companies can prevent defective products from leaving the factories and avoid possible production downtime.
Audi uses computer vision to find small cracks in the sheet metal in the vehicles. Thus, even at the production stage, it reduces the risk of damaged parts leaving the factory.
Porsche has developed "Sounce", a digital assistant,  using deep learning methods. AI is capable of reliably and accurately detecting noise, for example during endurance tests. This solution, in particular, takes the burden off development engineers who so far had to be present during such tests.  Acoustic testing based on Artificial Intelligence (AI) increases quality and reduces production costs.
4. AI will configure your dream vehicle
In a competitive and excessively abundant market, selling vehicles is very difficult. Brands are constantly competing in services and technologies that are to provide buyers with new experiences and facilitate the purchasing process. Manufacturers use artificial intelligence services not only at the stage of prototyping and modeling vehicles, but also at the end of the manufacturing process, when the vehicle is eventually sold. A well-designed configurator based on AI algorithms is often the final argument, by which the customer is convinced to buy their dream vehicle. Especially when we are talking about luxury cars.
The Porsche Car Configurator is nothing more than a recommendation engine powered by artificial intelligence. The luxury car manufacturer created it to allow customers to choose a vehicle from billions of possible options. The configurator works using several million data and over 270 machine learning modules. Effect? The customer chooses the vehicle of their dreams based on customised recommendations.
Transportation – how AI facilitates driving vehicles
5. Artificial intelligence will provide assistance in an emergency
A dangerous situation on the road, vehicle in the blind spot, power steering on a slippery surface. All those situations can be supported by artificial intelligence, which will calculate the appropriate driving parameters or correct the way the driver behaves on the road. Instead of making automatic decisions – which are often emotion-imbued or lack experience – brands increasingly hand them over to machines, thus reducing the number of accidents and protecting people's lives.
Verizon Connect solutions for fleet management allow you to send speed prompts to your drivers as soon as your vehicle's wipers are turned on. This lets the driver know that they have to slow down due to adverse road conditions such as rain or snow. And the intelligent video recorder will help you understand the context of the accident – for instance, by informing you that the driver accelerated rapidly before the collision.
6. Driver monitoring and risk assessment increase driving safety and comfort
Car journeys may be exhausting. But not for artificial intelligence. The biggest brands are increasingly equipping vehicles with solutions aimed at monitoring fatigue and driver reaction time. By combining intelligent software with appropriate sensors, the manufacturer can fit the car with features that will significantly reduce the number of accidents on the road and discomfort from driving in difficult conditions.
Tesla monitors the driver's eyes, thus checking the driver's level of fatigue and preventing them from falling asleep behind the wheel. It's mainly used for the Autopilot system to prevent driver from taking short nap during travel.
The BMW 3 Series is equipped with a personal assistant, the purpose of which is to improve driving safety and comfort. Are you tired of the journey? Ask for the "the vitalization program" that will brighten the interior, lower the temperature or select the right music. Are you cold? All you have to do is say the phrase "I'm cold" and the seats will be heated to the optimal temperature.
Maintenance – how AI helps you take care of your car
7. Predictive Maintenance prevents malfunctions before they even appear
Cars that we are driving today are already pretty smart. They can alert you whenever something needs your attention and they can pretty precisely say what they actually need – oil, checking the engine, lights etc. The Connected Car era however equipped with the possibilities given by AI brings a whole lot more – predictive maintenance. In this case AI monitors all the sensors within the car and is set to detect any potential problems even before they occur.
AI can easily spot any changes, which may indicate failure, long before it could affect the vehicle's performance. To go even further with this idea, thanks to the Over-The-Air Update feature, after finding a bug that can be easily fixed by a system patch, such solution can be sent to the car Over-The-Air directly by the manufacturer without the need for the customer to visit the dealership.
Predi (an AI software company from California) has created an intelligent platform that uses the service order history and data from the Internet of Things to prevent breakdowns and deal with new possible ones faster.
8. Insure your car directly from the cockpit
Driving a car is not only about operating costs and repairs, but also insurance that each of us is required to purchase. In this respect, AI can be useful not only for insurance companies (see how AI can improve the claims handling process), but also for drivers themselves. Thanks to the appropriate software, we will remember about expiring insurance or even buy it directly from the comfort of our car, without having to visit the insurer's website or a stationary point.
The German company ACTINEO, specialising in personal injury insurance, processes and digitises 120,000. claims annually. Their ACTINEO Cockpit service is a digital manager that allows for the comprehensive management of this type of cases, control of billing costs, etc.
In collaboration with Ford, Arity provides insurers – with the driver's consent, of course – data on the driving style of the vehicle owner. In return for sharing this information, the driver is offered personalised insurance that matches his driving style. The platform's calculations are based on "more than 440 billion miles of historical driving data from more than 23 million active telematics connections and more than eight years of data directly from cars (source: Green Car Congress).
When will AI take over the automotive industry?
In 2015, it is estimated that only 5-10% of cars had some form of AI installed. The last five years have brought the dissemination of solutions such as parking assistance, driver assistance and cruise control. However, the real boom is likely to occur within the next 8-10 years.
From now on, artificial intelligence in the automotive industry will no longer be a novelty or wealthy buyers' whims. The spread of the Internet of Things, consumer preferences and finding ways of saving money in the manufacturing process will simply force manufacturers to do this – not only in the vehicle cockpits, but also on the production and service lines.
To this end, they will be made to cooperate with manufacturers of sensors and ultrasonic solutions (cooperation between BMW and Mobileye, Daimler from Bosch or VW and Ford with Aurora) and IT companies providing software for AI. A dependable partner who understands the potential of AI and knows how to use its power to create the car of the future is the key to success for companies in this industry.
>>> Do you want to implement AI solutions in your own company? Are you looking for a way to improve your production or automotive product by using innovative software or applications? Contact our expert. We are happy to answer all your queries and suggest further actions.